At Forrest Security Systems, we supply burglar alarms in Maidstone. Our alarm systems are ideal for domestic or business premises and act as a deterrent for those thinking of breaking into your home or office. 
We also offer intruder alarm systems that can be activated remotely using your smartphone along with notifications on when the system is being used. 
Whatever your burglar alarm needs are, we have a solution for you.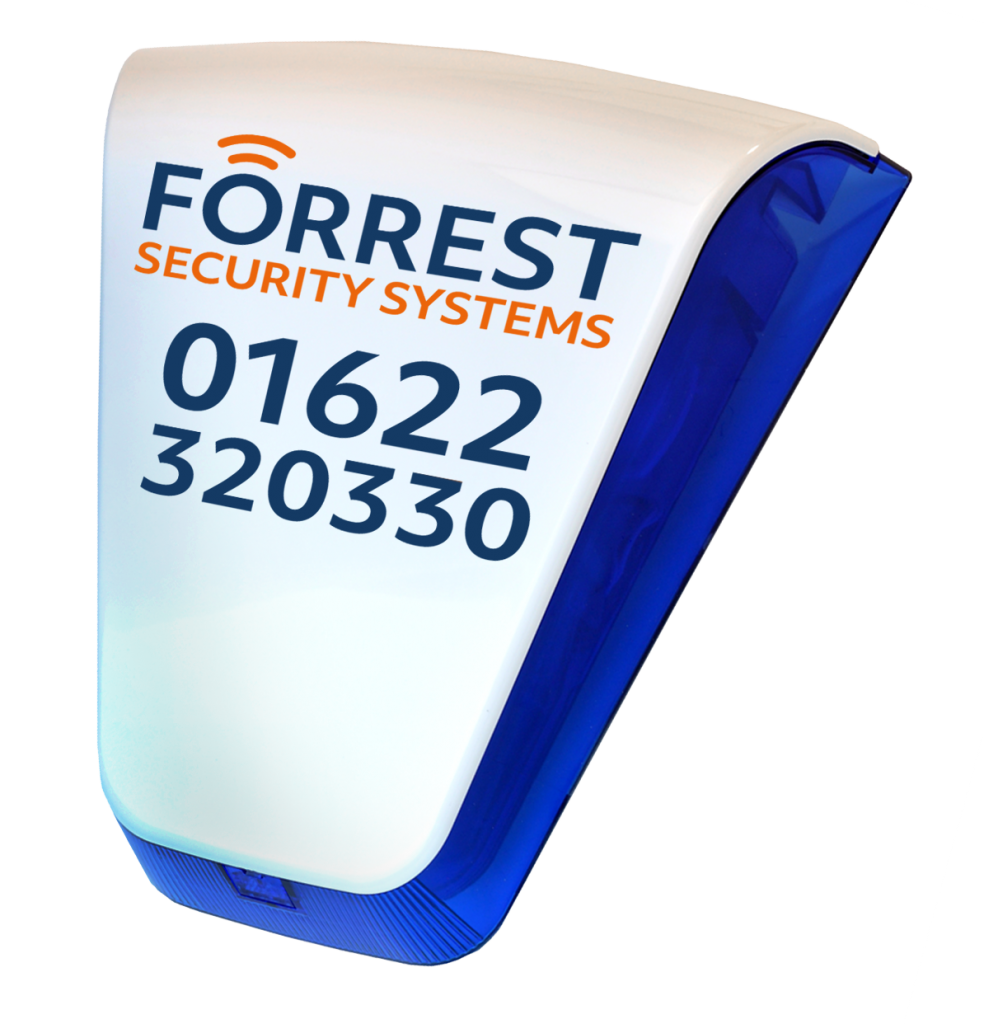 Expert Intruder Alarms in Maidstone

Burglaries, thefts and trespassing are more frequent than you realise, so it's important to consider protecting your home or business with a quality alarm security system which will greatly reduce the chances of your home or business being burgled and offer peace of mind that your property is protected while you are away or while you sleep. 
Keep your family, possessions or business safe with Forrest Security's burglar alarms Maidstone. Consider using one of our security systems or intruder alarms with access control today.
Kent Police to respond automatically upon activation.
Professional Burglar alarm installation maidstone
Intruder alarms and security lighting are a vital part of home security, and we have a wide range of systems to choose from. We can tailor a system to your specific needs, so you can be sure your home or business is as safe as possible. From initial contact with us right until your job is complete we offer a professional service.
Burglary can happen in any home, at any time. That's why it's important to have a reliable burglar alarm security system in your home or business premises that will protect your family and your possessions. With Forrest Security Systems, you can rest assured that your home is safe and sound. 
You can trust us to provide you with a top-of-the-line burglar alarm system with access control in Maidstone that will keep your home safe. If you're looking for the best intruder alarms in Maidstone, look no further. We have been installing intruder alarms in Maidstone for many years.
Our company was established in 2016 and we have over 18 years of experience when it comes to burglar alarm installation. We are known as one of the most trusted names in the security system industry because we only use top-of-the-line equipment from leading manufacturers. 
Our technicians will design a custom solution that fits your needs perfectly so you can rest easy knowing that your family is safe at all times.
Advanced Motion Sensors in Maidstone
Forrest Security Systems are professionals in the field of crime detection & crime prevention in Maidstone and the South East. With our extensive range of advanced motion detectors with access control, we are ready to install a comprehensive security system around your home or business, offering you unparalleled peace of mind, day and night.
Put a STOP to trespassing, theft & criminal damage by taking action today.
Call us on 01622 320330 to speak directly with one of our security experts. We are available round the clock to assist you with any inquiries or concerns you may have.
Send us an email at info@forrest-security.co.uk and our team will promptly attend to your message, providing you with the information and support you need.
Visit our contact page on our website and fill out the provided form. Once submitted, one of our highly skilled security consultants will review your inquiry and respond promptly.
Don't compromise on your safety and the security of your valuable assets. Trust Forrest Security Systems to deliver tailored solutions that meet your specific requirements. Together, let's create a secure environment that keeps intruders at bay.
Reliable House & Office Security Alarms in Maidstone
If you're looking for the best home security system in Maidstone, look no further than our expert team at Forrest Security Systems. We offer a wide range of products and services such as security lighting, access control, security systems & fire alarm systems that will keep your family safe from all harm. Our team is dedicated to providing our customers with the highest quality security alarms in Maidstone, so they can rest easy knowing their homes are protected 24/7. To enhance security, we also offer CCTV Maidstone.
With a variety of security systems available, we have something for everyone! From basic alarms to full-service monitoring systems, we have everything you need to ensure your safety and peace of mind. And with over 18 years of experience in the industry, there isn't anything we haven't seen before! You can trust us to provide only top-quality alarm equipment and customer service – it's what sets us apart from other companies out there today.
Contact us today for an intruder alarm, motion sensor or security lighting in Maidstone, East Sussex.
Protect your home or business in maidstone
Burglar Alarm Systems for your home.
Whether your home needs a new burglar alarm system, or you're just looking to upgrade your existing system, Forrest Security will provide a range of solutions, including access control, tailored to your own needs, systems can be fitted wirelessly so there Is no need for the upheaval of lifting carpets or running ugly wires. We also install, repair and upgrade some existing systems depending on the models so you may not need to worry about the cost of a complete installation. We are a local company servicing Maidstone and we cover surrounding areas.
Business Alarm Systems for your business.
Depending on the size of your premises or business, we offer various systems to suit you. Systems can notify you via an app on your smartphone so you can keep an eye on people coming and going from the office even when you are not there. We also offer monitoring, and when coupled with one of our CCTV systems, your business can be protected even more. We also offer door entry systems and access control in Maidstone for added security. Contact us for a free, audit and no obligation quotation. 
The added security of an intruder alarm or CCTV system may even bring the cost of your business insurance down. We provide home and business alarm systems throughout Kent, London and the South East, so If you are in the market for a new alarm system for your home or business contact us today. We have a range of previous satisfied customers, get in touch for a free quotation.